The Dilemma of Visibility in the Virtual Classroom: To See or Not to See?
by Winona Wynn
On the hood of an old Chevy Truck, partially hidden by a cluster of indigenous plants in Yellowstone National Park, and with a family of lodgepole pine trees bearing witness, the two weathered hands of my father hold me steady as I take my first step in a pair of moccasins my grandmother made for me. I lift my right knee too high in the air, due to my limited proprioception. My father does not speak; he just slightly tightens his hands around my middle. This movement, this signifying nonverbal message of safety and assurance, accompanied by a resonating vocal expression of glee from my mother, gives me the confidence to take that much celebrated first step in this interconnected natural/material environment: branches above my head and metal below my feet. This moment is captured in a photograph.
I often reflect on that happening as "first contact" with the interplay of the verbal and the nonverbal: steady, confident, silence meets an interruptive vocalization of joy and approval. Interdependent codes including gestures, pausing, stance, location, vocal tone, pitch, breathing and many others work together to help us perceive and interpret messages1. Some must be seen, others heard. This intricate choreography between the vocal and the non-verbal is critically important in sustaining our relational and interconnected humanity. As well-respected linguist Edward Sapir posits, nonverbal communication functions as an "elaborate and secret code that is written nowhere, known by none, and understood by all."2
Being who I am, Winona, which in the Lakota language means, "first born daughter," I have witnessed many stories that mothers have shared about their first-born that are understood by all. They are stories of "first contact," and continuance. For the optimized experience, my mother would share stories accompanied by photographs whenever possible. In the Yellowstone photograph, observance of my facial expression and body language provides an additional layer of interpretive meaning. My brow is furrowed in concentration. There is no smile on my face, but two fists are lifted up, almost vertically, my pose almost resembling the victory stance of those crossing finish lines3—at least that is what my mother tells riveted listeners. Reflecting on other family photographs, I note the stoic facial expressions of my ancestors and imagine that the moment before the camera obscura captured their image for posterity, their fists were also in the air. Their resistance to erasure, and therefore their commitment to visibility, however limited, is evident in their unyielding, proud stance. Through their multi-faceted non-verbal communication they too signify continuance.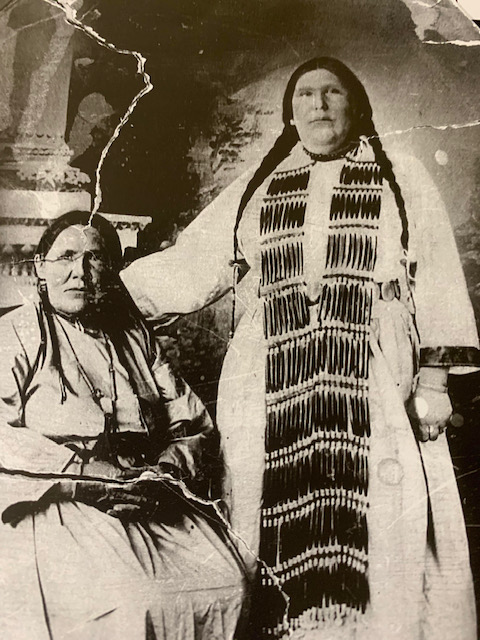 Of course, it would be remiss to not juxtapose this non-verbal communication with the Native American oral tradition that has been the voice of survival, the primary tool through which traditional teachings have been preserved. As Kiowa writer, Scott Momaday states with conviction, "A word has power in and of itself. It comes from nothing into sound and meaning. It gives origin to all things." 4
My communication process entails an intricate synergy of observation and spoken word; a privileged mix, dependent upon freedom of expression. I recognize that negotiating and managing those states of being, clearly a prerogative for me at this point, remains a struggle for many5. Lately, I have been thinking that my previously privileged choice of balancing vocal messaging with non-verbal observation is now skewed. I am wondering if these days, I prefer visual observation over vocal interaction or maybe it is the other way around? As our world has shifted due to various crises, so have we. Our recent mandatory and self-imposed situational isolation has contributed to our scrutiny of gatherings of any size. Some of us have been more alone with our thoughts than ever before. A collective, visceral cry to be seen and heard echoes throughout proverbial caves. As one compelling poem of the mystic, Rumi, suggests, Who are we in this complicated world?
For me, and undoubtedly, for us, the intersecting roles of parent, partner, caretaker, teacher (a role I was thrust into as elementary schools transitioned to online environments last spring due to Covid-19), advocate, advisor, professor and administrator, and many other roles you are now naming in your head, are being challenged and redefined, both with and without our permission. Speaking from my personal academic context, early on as decisions were finalized and campus was abandoned, a modified dining area became my new office, the décor scrutinized to ensure the viewing pleasure of students and various other Zoom audiences. Advice on how to design appropriate educational environments for students, who would essentially be entering our home spaces on a daily basis, became a cottage industry. Contexts for visibility became increasingly marketable and performative. For me, visibility in my home-classroom became slightly problematic due to a lack of reciprocity. I was the only person in my classroom "on camera." My dynamic human presence was alone with black boxes, Zoom backgrounds, or static photos of my students or their favorite pets.
We share a long history of negotiating and attributing meaning to visibility. It begins innocently enough. Peek-a-boo is played with family and strangers alike. Visibility is a game. We learn that when things disappear in our world, they will return eventually. Later in childhood we play hide-and-seek with our friends, and when we tire of the game, we summon all to a pre-determined "safe space" by calling out an old Appalachian phrase that has regional variations, "Ollie Ollie in come free!" 6 In our teen years, visibility becomes a high stakes negotiation as we painfully contemplate when to be seen, where to be seen and by whom. Finally, as adults, we continue to grapple with the complex nuances of visibility as well as the non-verbal and verbal cues that accompany it. It is complicated. We are complicated.
Conversations regarding the question of visibility in the virtual classroom dominate dialogues on college campuses, where impassioned verbal expressions regarding the dilemma of seeable students engaging in the virtual class vs. the presentation of the "named little black box," yield multiple positions. Most of our questions (read frustrations) are directed toward the conundrum of the "little black box." They range from ontological concerns, Are my students even there? to acknowledgements of empathy and the need for privacy and personal space. Additionally, our ability to trust our students is further called into question. Are all tests now "open book?" How do we manage excessive collaboration? What constitutes excessive collaboration? In a recent meeting, one reticent faculty member, who appeared somewhat distressed, bravely asked the question that several were thinking, judging by my panoptic sighting of nodding heads, What if they are using "internet connection issues as an excuse for arbitrary absences? "
Our students are negotiating their presence in spaces of learning, and so are we. What remains intact from this upheaval is the lens through which I see the world. I remain committed to the vulnerable state of visibility, albeit laden with puzzling complexity and intrusive memories of historical trauma. The "to see or not to see" plot thickens.
At this early stage it appears, as teachers and professors (or both), we are circling a binary impasse—to see or not to see. This nuanced dilemma dominates my "worry dreams." At its core, it references our beginnings: How do we respectfully diminish our perceived need for visibility, when non-verbal communication was an integral part of our "first contact" with the world? If our students occupy "black boxes," how do we replicate dynamic exchanges that resemble "call and response?" We exist in the spaces of (re)definition. Our students are negotiating their presence in spaces of learning, and so are we. What remains intact from this upheaval is the lens through which I see the world. I remain committed to the vulnerable state of visibility, albeit laden with puzzling complexity and intrusive memories of historical trauma. The "to see or not to see" plot thickens. We now join our students in pondering our state of being, taking into account the binary of the visage vs. the little black box, and choosing whether or not to suffer the "slings and arrows of outrageous fortune."
Perhaps our dilemma has broadened; where before we were considering the binary of visibility/invisibility, to see or not to see, we may now return to that "first contact" scenario that began this conversation: learning to navigate while framing ourselves in the natural/material world. The questions are endless, and they derive from many of our diverse personal and professional locations. As a mother of a 12-year-old, as a member of a Pacific Northwest Tribe, as a professor and administrator at a private, non-tribal Hispanic serving university located on an American Indian Reservation, as an advocate for vulnerable tribal members, I have endless questions. We have endless questions, the most pressing being how to balance our humanity with technology, while preserving our need to connect through holistic and empathetic interaction. How do I move through this liminal space of the present, and remain connected to my history and the future vision of my ancestors? How do I revisit that "first step" where the tree branches above me and the metal beneath my feet assure me that my forward path is safe and rife with purpose? And finally and most importantly, how do we coax our students out of that little black box, assuring them that our empathy is intact, and it is safe to come out and play? Ollie, Ollie, in come free.
End Notes
1. Zoller, K. (2015). The philosophy of using communicative intelligence for cross-cultural collaboration. In N. Erbe & A.H. Normore (Eds.), Cross-cultural collaboration and leadership in modern organizations (pp. 303-320). Hershey, PA: IGI Global Publishers.
2. Sapir, E., & Mandelbaum, D. G. (1949). Selected writings of Edward Sapir in language, culture and personality. Berkeley, CA: Univ. of Calif. Pr.
3. Matsuomo, David, and Bob Willingham. "Spontaneous facial expressions of emotion of congenitally and noncongenitally blind individuals." Journal of Personality and Social Psychology, Volume 96, 2009. See also, Ahmed, Sarah. The Cultural Politics of Emotions. Routledge, 2014.
4. Momaday, N. S. (2019). The way to Rainy Mountain. Albuquerque, NM: University of New Mexico Press.
5. JONES BRAYBOY, B. M. (2004). Hiding in the ivy: American Indian students and visibility in elite educational settings. Harvard Educational Review, 74(2), 125-152.
6. https://www.appalachianhistory.net/2017/06/ollie-ollie-in-come-free.html
About the Author
Winona Wynn, a professor at Heritage University, believes that well-told stories empower our present and renew our future. Drawing from the richness of the cultural communities that make up her university, she guides students into the labyrinth of academic storytelling through involving them in relational, interdisciplinary indigenous research. As the Coordinator of The Leadership Alliance and the Mellon Mays Undergraduate Fellowship (MMUF), she provides multiple opportunities for students to engage in local, national and global opportunities that support and feed their future goals and dreams.