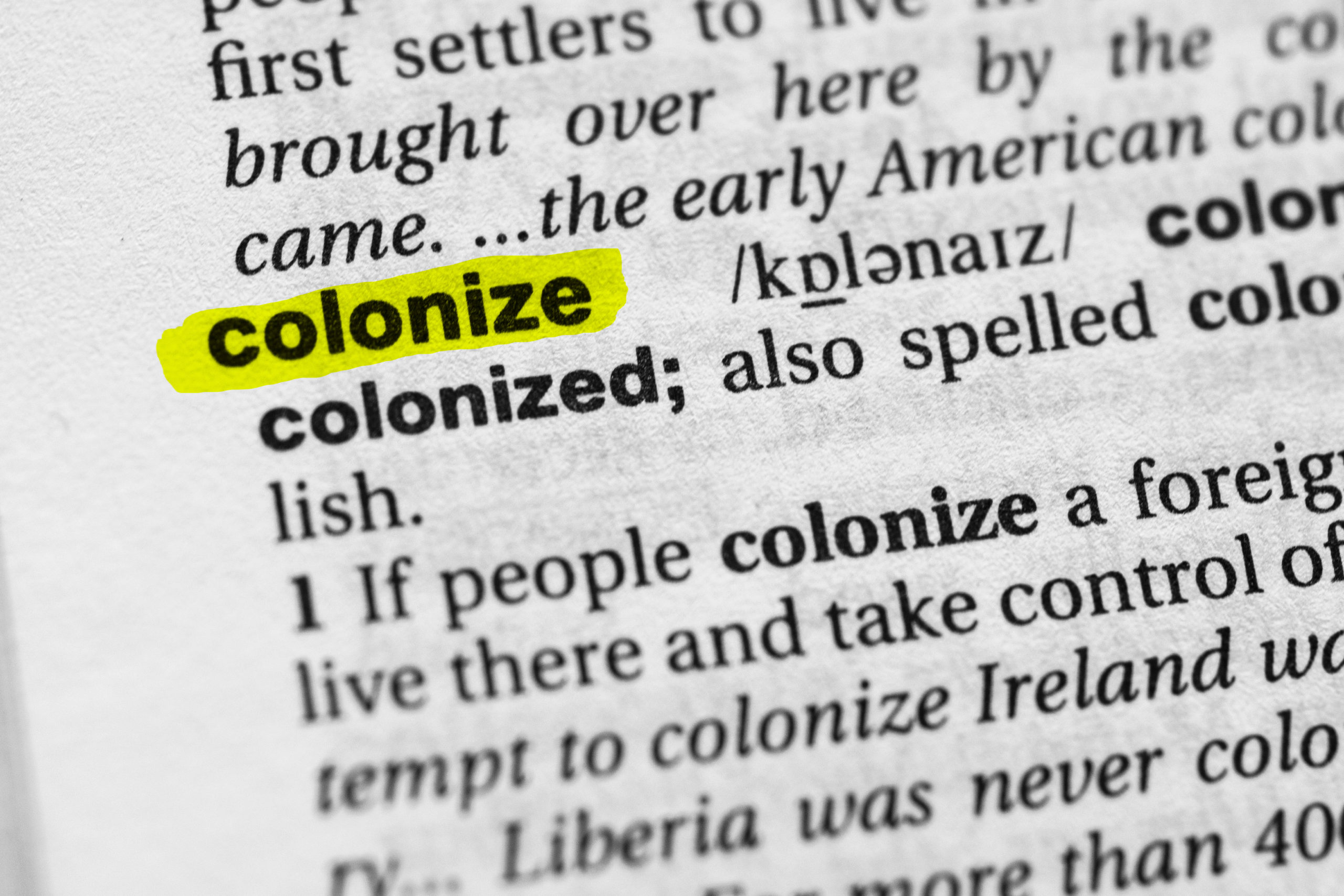 by Clare Doyle
"Our strategy should be not only to confront empire, but to lay siege to it. To deprive it of oxygen. To shame it. To mock it. With our art, our music, our literature, our stubbornness, our joy, our brilliance, our sheer relentlessness — and our ability to tell our own stories. Stories that are different from the ones we're being brainwashed to believe." — Arundhati Roy, War Talk, 2003.
This issue of OTH Bookshelf comprises more than 100 academic open access title on the topics of colonialism and imperialism, focusing on books that would be of most interest and value to HSS scholars and students.
The titles on this list cover locations ranging from Ghana to Guam, from India to Ireland, from Latin America to Sub-Saharan Africa. These works look as far back in time as the Ottoman and the Roman Empires to remind us that colonies and empires as forces have been with us for most of human history. However, books like Rocio Zambrano's Colonial Debts: The Case of Puerto Rico (Duke University Press, 2021), examining the concept of neoliberal coloniality in light of Puerto Rico's debt crisis, make us ponder how colonialism in some form is still with us today.
The OTH list includes the book's author or editor names, title and title remainder, year of publication, publisher, and open access format (PDF, EPUB, MOBI, etc.) Subject headings in the list are taken from WorldCat records or Library of Congress records, if available: if not, original cataloging of subject headings is provided in WorldCat format, for consistency. The DOI (Digital Object Identifier) of the book is given if it is available on the publisher's website; if not, the URL is provided. The ISBNs listed are for the online version of the book if available, and if more than one online ISBN is available the ISBN for the PDF version has been preferred; if there is not an online or e-book ISBN, the ISBN featured on the publisher's website is included. The book's license type (Creative Commons, etc.), terms of use or copyright restrictions are included if these have been provided by the publisher.
OTH Bookshelf: Colonies and Empires lists titles from some 30 publishers: if our readers are aware of any title or publishers that are not included, please feel free to submit them for consideration. (To be included in OTH Bookshelf, a book must be available to read online and/or download for free and must have been assigned an ISBN.) And we welcome your suggestions for topics that might be covered in a future issue of OTH Bookshelf.
Download OTH Bookshelf List (excel)
| Title | Author 1 Last | Author 1 First | Editor 1 | Author 2 Last | Author 2 First | Editor 2 | Author 3 Last | Author 3 First | Editor 3 | Year | Publisher | Format | ISBN | Subject 1 | Subject 2 | Subject 3 | DOI or URL | Licence or Terms of Use |
| --- | --- | --- | --- | --- | --- | --- | --- | --- | --- | --- | --- | --- | --- | --- | --- | --- | --- | --- |
| A Colonial Affair: Commerce, Conversion, and Scandal in French India | Agmon | Danna | | | | | | | | 2017 | Cornell University Press | EPUB, PDF | 9.78E+12 | French India Puducherry (Union Territory) -- History -- 18th century | French Company of the East Indies | | https://www.cornellpress.cornell.edu/book/9781501713071/a-colonial-affair/#bookTabs=4 | Creative Commons Attribution-NonCommercial-NoDerivatives 4.0 International Licence |
| A Global History of Convicts and Penal Colonies | Anderson | Clare | editor | | | | | | | 2018 | Bloomsbury Academic | PDF | 978-1-3500-0068-1 | Convict labor--Cross-cultural studies | Convictlabor -- History | Imperialism--Cross-cultural studies | 10.5040/9781350000704 | Creative Commons Attribution-NonCommercial-NoDerivatives 3.0 International Licence |
| Practicing Decoloniality in Museums: A Guide with Global Examples | Ariese | Csilla | | Wroblewska | Magdalena | | | | | 2021 | Amsterdam University Press | PDF | 9.79E+12 | Museums -- Collection management -- Moral and ethical aspects | Decolonization | Museums -- Social aspects | https://library.oapen.org/handle/20.500.12657/51452 | Creative Commons Attribution-NonCommercial-NoDerivatives 4.0 International Licence |
| Early Public Libraries and Colonial Citizenship in the British Southern Hemisphere | Atkin | Lara | editor | | | | | | | 2019 | Palgrave Macmillan | PDF | 978-3-030-20426-6 | Books and reading -- Social aspects -- Southern Hemisphere -- History -- 19th century | Public libraries -- Commonwealth countries -- History -- 19th century | | https://doi.org/10.1007/978-3-030-20426-6 | Creative Commons Attribution -- 4.0 International Licence |
| Spatial Histories of Occupation: Colonialism, Conquest and Foreign Control in Asia | Baillargeon | David | editor | Taylor | Jeremy E. | | | | | 2022 | Bloomsbury Academic | PDF | 978-1-3502-5261-5 | Asia -- Foreign relations | Colonies -- Asia | Imperialism -- History | 10.5040/9781350257023 | Creative Commons Attribution-NonCommercial-NoDerivatives 4.0 Licence |
| Administering the Empire, 1801-1968: A Guide to the Records of the Colonial Office in the National Archives of the UK | Banton | Mandy | | | | | | | | 2020 | University of London Press | PDF | 9.78E+12 | Great Britain -- Colonial Office -- Archives | | | 10.14296/0920.9781912702787 | Creative Commons Attribution-NonCommercial-NoDerivatives 4.0 International Licence |
| Outcasts of Empire: Japan's Rule on Taiwan's "Savage Border," 1874–1945 | Barclay | Paul D. | | | | | | | | 2017 | University of California Press | EPUB, PDF, MOBI | 978-0-520-96880-6 | Japan -- Colonies -- History | Taiwan -- History | | https://doi.org/10.1525/luminos.41 | Creative Commons Attribution-NonCommercial-NoDerivatives 4.0 Licence |
| The Politics of Housing in (Post-)Colonial Africa: Accommodating Workers and Urban Residents | Barker-Ciganikova | Martina | editor | | | | | | | 2020 | De Gruyter Oldenbourg | PDF | 978-3-11-060118-3 | Housing policy -- Africa | Postcolonialism | | https://doi.org/10.1515/9783110601183 | Creative Commons Attribution-NonCommercial-NoDerivatives 4.0 International Licence |
| Sharing Breath: Embodied Learning and Decolonization | Batacharya | Sheila | editor | Wong | Yuk-Lin Renita | editor | | | | 2018 | Athabasca University Press | PDF | 9.78E+12 | Critical pedagogy | Decolonization | | https://doi.org/10.15215/aupress/9781771991919.01 | Creative Commons Attribution-NonCommercial-NoDerivatives 4.0 International Licence |
| Violent Becomings: State Formation, Sociality, and Power in Mozambique | Bertelsen | Bjorn Enge | | | | | | | | 2016 | Berghahn Books | EPUB, PDF | 978-1-78533-236-4 | Mozambique -- Politics and government | Nation-building -- Mozambique | Postcolonialism | https://doi.org/10.3167/9781785332364 | Creative Commons Attribution-NonCommercial-NoDerivatives 4.0 International Licence |
| Decolonising the University | Bhambra | Gurminder K. | editor | Gebrial | Dalia | editor | Nişancıoğlu | Kerem | editor | 2018 | Pluto Press | PDF | 9.78E+12 | Cultural pluralism -- Study and teaching (Higher) | Education, Higher -- Social aspects | Decolonization | http://library.oapen.org/handle/20.500.12657/25936 | Creative Commons Attribution-NonCommercial-NoDerivatives 4.0 International Licence |
| Contagion and Enclaves: Tropical Medicine in Colonial India | Bhattacharya | Nandini | | | | | | | | 2012 | Liverpool University Press | PDF | 9.78E+12 | Medical care -- India -- History -- 19th century | Segregation -- India -- History --19th century | Colonialism -- India | 10.2307/j.ctt5vjf2j | Creative Commons Attribution-NonCommercial-NoDerivatives 4.0 International Licence |
| Stories of Women: Gender and Narrative in the Postcolonial Nation | Boehmer | Elieke | | | | | | | | 2017 | Manchester University Press | PDF | 9.78E+12 | English literature -- English-speaking countries -- History and criticism. | Women in literature | Postcolonialism in literature. | https://doi.org/10.7765/9781526125965 | Creative Commons Attribution-NonCommercial-NoDerivatives 4.0 International |
| Congoville: Contemporary Artists Tracing Colonial Tracks | Boons | Pieter | editor | Colard | Sandrine | | | | | 2021 | Leuven University Press | PDF | 9.79E+12 | Performance art | Decolonization | Middelheim Museum | 10.11116/9789461663948 | All rights reserved |
| Colonial Legacies: Economic and Social Development in East and Southeast Asia | Booth | Anne | | | | | | | | 2007 | University of Hawaiʻi Press | PDF | 9.78E+12 | East Asia -- Colonial influence | Southeast Asia -- Colonial influence | | https://www.hawaiiopen.org/product/colonial-legacies-economic-and-social-development-in-east-and-southeast-asia/ | Creative Commons Attribution-NonCommercial-NoDerivatives 4.0 International Licence |
| The Teacher and the Superintendent: Native Schooling in the Alaskan Interior, 1904-1918 | Boulter | George E. | editor | Grigor-Taylor | Barbara | editor | | | | 2015 | Athabasca University Press | PDF | 9.78E+12 | Alaska -- Natives -- Government policy -- History --20th century | Alaska -- Natives -- Education -- History -- 20th century | Boulter, George E., 1864-1917 -- Correspondence | https://doi.org/10.15215/aupress/9781927356500.01 | Creative Commons Attribution-NonCommercial-NoDerivatives 4.0 International Licence |
| Post-Ottoman Coexistence: Sharing Space in the Shadow of Conflict | Bryant | Rebecca | editor | | | | | | | 2016 | Berghahn Books | EPUB, PDF | 978-1-78533-124-4 | Middle East -- Social conditions | Ottoman Empire | Postcolonialism | https://doi.org/10.3167/9781785331244 | Creative Commons Attribution-NonCommercial-NoDerivatives 4.0 International Licence |
| Plague, Quarantines and Geopolitics in the Ottoman Empire | Bulmus | Birsen | | | | | | | | 2012 | Edinburgh University Press | EPUB, PDF | 9.78E+12 | Plague history | Quarantine -- Political aspects -- Historiography | Ottoman Empire | https://edinburghuniversitypress.com/book-plague-quarantines-and-geopolitics-in-the-ottoman-empire.html | Creative Commons Attribution -- 4.0 International Licence |
| (Post-)colonial Archipelagos: Comparing the Legacies of Spanish Colonialism in Cuba, Puerto Rico, and the Philippines | Burchardt | Hans-Jurgen | editor | Leinius | Johanna | editor | | | | 2022 | University of Michigan Press | EPUB | 9.78E+12 | Cuba -- Colonization | Philippines -- Colonization | Puerto Rico -- Colonization | 10.1353/book.99931 | Creative Commons Attribution-NonCommercial-NoDerivatives 4.0 International Licence |
| Sharpening the Haze: Visual Essays on Imperial History and Memory | Carabelli | Giulia | editor | | | | | | | 2020 | Ubiquity Press | EPUB, PDF, MOBI | 978-1-911529-65-1 | Imperialism -- History | Collective memory | | https://doi.org/10.5334/bcd | Creative Commons Attribution -- 4.0 Licence |
| The Importance of Being Monogamous: Marriage and Nation Building in Western Canada in 1915 | Carter | Sarah | | | | | | | | 2008 | Athabasca University Press | PDF | 9.78E+12 | Indian women -- Canada, Western -- History -- 19th century | Mormons -- Canada, Western -- History -- 19th century | Marriage -- Canada, Western -- History -- 19th century | https://www.aupress.ca/books/120144-the-importance-of-being-monogamous/ | Creative Commons Attribution-NonCommercial-NoDerivs 2.5 Canada |
| Art Activism for an Anticolonial Future | Castellano | Carlos Garrido | | | | | | | | 2021 | SUNY Press | EPUB, PDF | 9.78E+12 | Art -- Political aspects | Art and social action | Decolonization in art | http://hdl.handle.net/20.500.12648/7166 | Creative Commons Attribution-NonCommercial-NoDerivatives 4.0 International Licence |
| Anti-Japan: The Politics of Sentiment in Postcolonial East Asia | Ching | Leo | | | | | | | | 2019 | Duke University Press | PDF | 9.78E+12 | Japan -- Foreign public opinion, East Asian | Japan -- Relations -- East Asia | Imperialism -- History -- 20th century | https://books.openmonographs.org/articles/book/Anti-Japan_The_Politics_of_Sentiment_in_Postcolonial_East_Asia/10093604 | Creative Commons Attribution-NonCommercial-NoDerivs 3.0 Unported Licence |
| The Dutch and English East India Companies: Diplomacy, Trade and Violence in Early Modern Asia | Clulow | Adam | editor | Mostert | Tristan | editor | | | | 2018 | Amsterdam University Press | PDF | 9.79E+12 | East India Company -- History | Colonial companies -- Asia -- History | | https://doi.org/10.2307/j.ctv9hvqf2 | Creative Commons Attribution-NonCommercial-NoDerivatives 4.0 International Licence |
| On Sovereignty and Other Political Delusions | Cocks | Joan | | | | | | | | 2014 | Bloomsbury Academic | PDF | 978-1-7809-3356-6 | Sovereignty | Postcolonialism | | 10.5040/9781780933573 | |
| Ghosts of Colonies Past and Present: Spanish Imperialism in the Fiction of Benito Pérez Galdós: | Coffey | Mary L. | | | | | | | | 2020 | Liverpool University Press | PDF | 9.78E+12 | Imperialism in literature | Pérez Galdós, Benito, 1843-1920 Criticism and interpretation | | https://library.oapen.org/handle/20.500.12657/46034 | Creative Commons Attribution-NonCommercial-NoDerivatives 4.0 International Licence |
| We Are Coming Home: Repatriation and the Restoration of Blackfoot Cultural Confidence | Conaty | Gerald T. | editor | | | | | | | 2015 | Athabasca University Press | PDF | 9.78E+12 | Cultural property -- Repatriation -- Alberta | Glenbow Museum | Blackfeet Indians -- Material culture | https://doi.org/10.15215/aupress/9781771990172.01 | Creative Commons Attribution-NonCommercial-NoDerivatives 4.0 International Licence |
| Knowing Women: Same-Sex Intimacy, Gender, and Identity in Postcolonial Ghana | Dankwa | Serena Owusua | | | | | | | | 2021 | Cambridge University Press | PDF | 9.78E+12 | Lesbianism--Ghana--History | Women--Ghana | Gender identity--Ghana | https://doi.org/10.1017/9781108863575 | Cambridge Core Terms of Use |
| Diamonds and War: State, Capital, and Labor in British-Ruled Palestine | De Vries | David | | | | | | | | 2010 | Berghahn Books | EPUB, PDF | 978-1-84545-633-7 | Diamond cutting industry -- Israel -- History -- 20th century | Eretz Israel -- Economic conditions -- 1917-1948, British Mandate period | | 10.3167/9781845456337 | Creative Commons Attribution-NonCommercial-NoDerivatives 4.0 International Licence |
| Indigenous Resurgence: Decolonialization and Movements for Environmental Justice | Dhillon | Jaskiran | editor | | | | | | | 2022 | Berghahn Books | PDF | 978-1-80073-245-2 | Environmental justice | Indigenous peoples | Decolonization | https://doi.org/10.3167/9781800732452 | Creative Commons Attribution-NonCommercial-NoDerivatives 4.0 International Licence |
| Spanish Colonial Tucson: A Demographic History | Dobyns | Henry F. | | | | | | | | 2019 | University of Arizona Press | EPUB | 978-0-8165-3878-2 | Tucson (Ariz.) -- Population -- History | Tucson (Ariz.) -- Colonial influences | | https://open.uapress.arizona.edu/projects/spanish-colonial-tucson | Creative Commons Attribution-NonCommercial-NoDerivatives 4.0 International Licence |
| Remembering the South African War: Britain and the Memory of the Anglo-Boer War, from 1899 to the Present | Donaldson | Peter | | | | | | | | 2018 | Liverpool University Press | PDF | 9.78E+12 | South African War, 1899-1902 | Great Britain -- Colonies -- History | | http://library.oapen.org/handle/20.500.12657/31644 | Creative Commons Attribution-NonCommercial-NoDerivatives 4.0 International Licence |
| Collective Memory and the Dutch East Indies: Unremembering Decolonization | Doolan | Paul M.M. | | | | | | | | 2021 | Amsterdam University Press | PDF | 9.79E+12 | Indonesia -- History -- 1798-1942 | Collective memory -- Netherlands | Decolonization -- Netherlands | https://library.oapen.org/handle/20.500.12657/51065 | Creative Commons Attribution-NonCommercial-NoDerivatives 4.0 International Licence |
| Postcolonial Piracy Media: Distribution and Cultural Production in the Global South | Eckstein | Lars | editor | Schwarz | Anja | | | | | 2014 | Bloomsbury Academic | PDF | 978-1-4725-1944-3 | Piracy (Copyright) -- Developing countries | Piracy (Copyright) -- Economic aspects | Piracy (Copyright) Social aspects | 10.5040/9781472519450 | |
| We Dream Together: Dominican Independence, Haiti, and the Fight for Caribbean Freedom | Eller | Anne | | | | | | | | 2016 | Duke University Press | PDF | 9.78E+12 | Dominican Republic -- Politics and government -- 1844-1930 | Dominican Republic -- Relations -- Haiti | Caribbean Area -- History -- Autonomy and independence movements | 10.1215/9780822373766 | Creative Commons Attribution-NonCommercial-NoDerivatives 4.0 International Licence |
| Women Writing Portuguese Colonialism in Africa | Ferreira | Ana Paula | | | | | | | | 2020 | Liverpool University Press | PDF | 978-1-789-62824-1 | Portuguese literature -- Women authors -- History and criticism. | Imperialism in literature | Postcolonialism in literature. | https://library.oapen.org/handle/20.500.12657/46030 | Creative Commons Attribution-NonCommercial-NoDerivatives 4.0 International |
| Decolonizing Diasporas: Radical Mappings of Afro-Atlantic Literature | Figueroa-Vásquez | Yomaira | | | | | | | | 2020 | Northwestern University Press | PDF | 9.78E+12 | African diaspora in literature | Decolonization in literature | Literary criticism | https://library.oapen.org/handle/20.500.12657/49666 | Creative Commons Attribution -- 4.0 International Licence |
| In Search of the Amazon: Brazil, the United States and the Nature of a Region | Garfield | Seth | | | | | | | | 2013 | Duke University Press | PDF | 9.78E+12 | Rubber industry and trade -- Amazon River Region -- History -- 20th century | Brazil -- Foreign economic relations -- United States | World War, 1939-1945 -- Economic aspects -- Amazon River Region | 10.26530/oapen_469256 | Creative Commons Attribution-NonCommercial-NoDerivatives 4.0 International Licence |
| Colonial Australian Fiction: Character Types, Social Formations and the Colonial Economy | Gelder | Ken | Weaver | Rachael | | | | | | 2017 | Sydney University Press | PDF | 9.78E+12 | Australian literature -- 19th century -- History and criticism | Colonies in literature | | http://library.oapen.org/handle/20.500.12657/25281 | Creative Commons Attribution-NonCommercial-NoDerivatives 4.0 International Licence |
| Beyond the State: The Colonial Medical Service in British Africa | Greenwood | Anna | ed | | | | | | | 2019 | Manchester University Press | PDF, HTML | 9.78E+12 | Great Britain -- Colonial Medical Service | Health services administration -- Africa, East -- History | British -- Africa | https://doi.org/10.7765/9781526137074 | |
| Ethnology and Empire: Languages, Literature, and the Making of the North American Borderlands | Gunn | Robert Lawrence | | | | | | | | 2015 | NYU Press | EPUB | 9.78E+12 | United States -- Territorial expansion -- Social aspects | Indians of North America -- Languages | Borderlands -- North America -- History -- 19th century | 10.18574/nyu/9781479842582.001.0001 | Creative Commons Attribution-NonCommercial-ShareAlike 4.0 International License |
| Creolizing Europe: Legacies and Transformations | Gutiérrez Rodríguez | Encarnación | Tate | Shirley Anne | | | | | | 2015 | Liverpool University Press | PDF | 9.78E+12 | Black people -- Social aspects -- Europe | Creoles -- Social aspects -- Europe | Postcolonialism Social aspects | http://library.oapen.org/handle/20.500.12657/31665 | Creative Commons Attribution-NonCommercial-NoDerivatives 4.0 International Licence |
| Eurafrica: The Untold History of European Integration and Colonialism | Hansen | Peo | editor | Jonsson | Stefan | | | | | 2014 | Bloomsbury Academic | PDF | 978-1-7809-3001-5 | Colonies -- Africa -- History | Africa -- Foreign relations -- Europe | Geopolitics -- Africa | 10.5040/9781472544506 | |
| Distant Companions: Servants and Employers in Zambia, 1900–1985 | Hansen | Karen Tranberg | | | | | | | | 2018 | Cornell University Press | EPUB, PDF | 9.78E+12 | Household employees -- Zambia -- History -- 20th century | Zambia -- Colonial influence | | https://www.cornellpress.cornell.edu/book/9781501719967/distant-companions/#bookTabs=4 | Creative Commons Attribution-NonCommercial-NoDerivatives 4.0 International Licence |
| Our Civilizing Mission: The Lessons of Colonial Education | Harrison | Nigel | | | | | | | | 2019 | Liverpool University Press | PDF | 9.78E+12 | Education -- Algeria -- History | Education, Colonial | Colonialism | https://library.oapen.org/handle/20.500.12657/52798 | Creative Commons Attribution-NonCommercial-NoDerivatives 4.0 International Licence |
| The Twilight of the British Empire: British Intelligence and Counter-Subversion in the Middle East, 1948–63 | Hashimoto | Chikara | | | | | | | | 2019 | Edinburgh University Press | EPUB, PDF | 9.78E+12 | Intelligence service -- Great Britain -- History -- 20th century | Great Britain -- Foreign relations -- Middle East | Imperialism | https://edinburghuniversitypress.com/book-the-twilight-of-the-british-empire.html | Creative Commons Attribution -- 4.0 International Licence |
| Colonial Impotence: Virtue and Violence in a Congolese Concession (1911–1940) | Henriet | Benoit | | | | | | | | 2021 | De Gruyter Oldenbourg | EPUB, PDF | 9.78E+12 | Congo (Democratic Republic) -- History -- 1908-1960 | Congo (Democratic Republic) -- Colonial influence | | https://doi.org/10.1515/9783110652734 | Creative Commons Attribution-NonCommercial-NoDerivatives 4.0 International Licence |
| Three and a Half Powers: The New Balance in Asia | Hinton | Harold C. | | | | | | | | 1975 | Indiana University Press | EPUB | 978-0-253-05061-8 | Asia -- Foreign relations -- United States | Postcolonialism | | https://doi.org/10.2979/ThreeandaHalfPowersT | Creative Commons Attribution CC-BY-NC-ND |
| Colonialism, Institutional Change, and Shifts in Global Labour Relations | Hofmeester | Karin | editor | de Zwart | Kim | editor | | | | 2018 | Amsterdam University Press | PDF | 9.79E+12 | Colonies -- Economic aspects -- History | Industrial relations -- History | Labor relations | http://library.oapen.org/handle/20.500.12657/30581 | Creative Commons Attribution-NonCommercial-NoDerivs 3.0 Unported Licence |
| The Impact of the Roman Empire on Landscapes: Proceedings of the Fourteenth Workshop of the International Network Impact of Empire (Mainz, June 12-15, 2019) | Horster | Marietta | editor | Hachler | Nikolas | editor | | | | 2021 | Brill | PDF | 978-90-04-41144-9 | Rome -- History -- Empire, 30 B.C.-284 A.D | Land use -- Rome -- History | | https://doi.org/10.1163/9789004411449 | Creative Commons Attribution-NonCommercial-NoDerivatives 4.0 International Licence |
| Sitting in Darkness: Mark Twain's Asia and Comparative Racialization | Hsu | Hsuan L. | | | | | | | | 2015 | NYU Press | EPUB | 9.78E+12 | Race in literature | Imperialism in literature | Twain, Mark, 1835-1910 -- Criticism and interpretation | 10.18574/nyu/9781479880416.001.0001 | Creative Commons Attribution-NonCommercial-ShareAlike 4.0 International License |
| Colonialism, Culture, Whales: The Cetacean Quartet | Huggan | Graeme | | | | | | | | 2018 | Bloomsbury Academic | PDF | 978-1-3500-1091-8 | Whaling -- History | Postcolonialism | | 10.5040/9781350010925 | Creative Commons Attribution-NonCommercial-NoDerivatives 4.0 International Licence |
| An Imperialist Love Story: Desert Romances and the War on Terror | Jarmakani | Amira | | | | | | | | 2015 | NYU Press | EPUB | 9.78E+12 | East and West in literature | Erotic stories, American -- History and criticism | Imperialism -- Social aspects | 10.33682/nyu/9781479896059.001.0001 | Creative Commons Attribution-NonCommercial-ShareAlike 4.0 International License |
| Environing Empire: Nature, Infrastructure and the Making of German Southwest Africa | Kalb | Martin | | | | | | | | 2022 | Berghahn Books | EPUB, PDF | 978-1-80073-290-2 | Namibia -- Colonization -- Environmental aspects | Germany -- Colonies -- History | Namibia -- History -- 1884-1915 | 10.3167/9781800732902 | Creative Commons Attribution-NonCommercial-NoDerivatives 4.0 International Licence |
| Sacred Men: Law, Torture, and Retribution in Guam | Kamacho | Keith | | | | | | | | 2019 | Duke University Press | PDF | 9.78E+12 | Guam -- History -- Japanese occupation, 1941-1944 | War crime trials -- Guam -- History --20th century | | https://books.openmonographs.org/articles/book/Sacred_Men_Law_Torture_and_Retribution_in_Guam/12084855 | Creative Commons Attribution-NonCommercial-NoDerivs 3.0 Unported Licence |
| Becoming Muslim in Imperial Russia: Conversion, Apostasy, and Literacy | Kefeli | Agnes | | | | | | | | 2015 | Cornell University Press | PDF | 9.78E+12 | Islam Russia (Federation) -- Tatarstan -- History | Apostasy | | https://www.cornellpress.cornell.edu/book/9780801454776/becoming-muslim-in-imperial-russia/#bookTabs=4 | Creative Commons Attribution-NonCommercial-NoDerivatives 4.0 International Licence |
| Imperial Matter: Ancient Persia and the Archaeology of Empires | Khatchadourian | Lori | | | | | | | | 2016 | University of California Press | EPUB, PDF, MOBI | 978-0-520-96495-2 | Archaeology and history -- Caucasus, South | Archaeology and history -- Iran | Imperialism -- Social aspects | https://doi.org/10.1525/luminos.13 | Creative Commons Attribution + Noncommercial + ShareAlike 4.0 License |
| The Upper Guinea Coast in Global Perspective | Knorr | Jacqueline | editor | Kohl | Christophe | | | | | 2016 | Berghahn Books | EPUB, PDF | 978-1-78533-069-8 | Globalization -- Political aspects -- Guinea (Region) | Postcolonialism | | https://doi.org/10.3167/9781785330698 | Creative Commons Attribution-NonCommercial-NoDerivatives 4.0 International Licence |
| Decolonizing Colonial Heritage: New Agendas, Actors and Practices in and Beyond Europe | Knudsen | Britta Timm | editor | | | | | | | 2021 | Taylor & Francis | PDF | 9.78E+12 | Europe -- Colonies -- Historiography | Collective memory | Decolonization | https://doi.org/10.4324/9781003100102 | Creative Commons Attribution-NonCommercial-NoDerivatives |
| Rethinking Authority in the Carolingian Empire: Ideals and Expectations during the Reign of Louis the Pious (813-828) | Kramer | Rutger | | | | | | | | 2019 | Amsterdam University Press | PDF | 9.79E+12 | Church and state -- France -- History -- To 1500 | Carolingians | Authority -- Religious aspects -- Catholic Church | https://www.jstor.org/stable/j.ctvd1c74c | Creative Commons Attribution-NonCommercial-NoDerivatives 4.0 International Licence |
| Empires and Communities in the Post-Roman and Islamic World, C. 400-1000 CE | Kramer | Rutger | editor | Pohl | Walter | editor | | | | 2021 | Oxford University Press | PDF | 9.78E+12 | Imperialism -- History -- To 1500 | East and West | Civilization, Medieval | https://global.oup.com/academic/product/empires-and-communities-in-the-post-roman-and-islamic-world-c-400-1000-ce-9780190067946?cc=us&lang=en& | Creative Commons Attribution-NonCommercial-NoDerivatives 4.0 International Licence |
| Imperial Emotions: Cultural Responses to Myths of Empire in Fin-de-Siècle Spain | Krauel | Javier | | | | | | | | 2013 | Liverpool University Press | PDF | 9.78E+12 | Spain -- History -- 1868-1931 | Collective memory -- Spain | Imperialism -- History | 10.2307/j.ctt5vjk68 | Creative Commons Attribution-NonCommercial-NoDerivatives 4.0 International Licence |
| Human Rights, Sexual Orientation and Gender Identity in The Commonwealth | Lennox | Corinne | editor | Waites | Matthew | editor | | | | 2013 | University of London Press | PDF | 978-1-912250-13-4 | Gays -- Legal status, laws, etc. -- Commonwealth countries | Lesbians -- Legal status, laws, etc. -- Commonwealth countries | Transgender people -- Legal status, laws, etc. Commonwealth countries | https://www.sas.ac.uk/publications/human-rights-sexual-orientation-and-gender-identity-commonwealth | Creative Commons Attribution-NonCommercial-NoDerivatives 4.0 International Licence |
| Orb And Sceptre: Studies in British Imperialism and Its Legacies, in Honour of Norman Etherington | Limb | Peter | | | | | | | | 2008 | Monash University Press | EPUB | 9.78E+12 | British Empire -- Historiography | Great Britain -- Colonies -- History | | https://bridges.monash.edu/articles/monograph/Orb_And_Sceptre_Studies_in_British_Imperialism_and_Its_Legacies_in_Honour_of_Norman_Etherington/12821357 | Creative Commons Attribution-NonCommercial-NoDerivatives 4.0 International Licence |
| New Perspectives on the History of Gender and Empire: Comparative and Global Approaches | Lindner | Ulrike | editor | Lerp | Dorte | editor | | | | 2018 | Bloomsbury Academic | PDF | 978-1-3500-5632-9 | Colonization -- Social aspects | Imperialism -- Social aspects | Sex role -- History | 10.5040/9781350056343 | Creative Commons Attribution-NonCommercial-NoDerivatives 4.0 International Licence |
| Postcoloniality: the French Dimension | Majumdar | Margaret A. | | | | | | | | 2007 | Berghahn Books | EPUB, PDF | 978-1-84545-252-0 | Postcolonialism -- French-speaking countries | France -- Colonies -- History | | https://doi.org/10.3167/9781845452520 | Creative Commons Attribution-NonCommercial-NoDerivatives 4.0 International Licence |
| Globalizing Cricket: Englishness, Empire and Identity | Malcolm | Donald | | | | | | | | 2013 | Bloomsbury Academic | PDF | 978-1-8496-6559-9 | Cricket -- Social aspects -- History | Imperialism -- Social aspects | National characteristics, English | 10.5040/9781849665605 | |
| A History of Education for the Many: From Colonization and Slavery to the Decline of US Imperialism | Malott | Curry | | | | | | | | 2021 | Bloomsbury Academic | PDF | 978-1-3500-8572-5 | Democracy and education--United States--History | Education and globalization | | 10.5040/9781350085749 | Creative Commons Attribution-NonCommercial-NoDerivatives Licence |
| Strangers in a Strange Land: Occidentalist Publics and Orientalist Geographies in Nineteenth‐Century Georgian Imaginaries | Manning | Paul | | | | | | | | 2012 | Academic Studies Press | PDF | 9.78E+12 | Intellectuals -- Georgia (Republic) --History -- 19th century | Group identity | Colonialism | 10.2307/j.ctt1zxsjjc | Creative Commons Attribution-NonCommercial-NoDerivatives 4.0 International Licence |
| Race, Tea and Colonial Resettlement: Imperial Families, Interrupted | McCabe | Jane | | | | | | | | 2017 | Bloomsbury Academic | PDF | 978-1-4742-9952-7 | Racially mixed people--India--History--20th century | Tea plantations--Social aspects--India--History--20th century. | Imperialism--Social aspects--India--History--20th century | 10.5040/9781474299534 | Creative Commons Attribution-NonCommercial-NoDerivatives 3.0 International Licence |
| Placing Empire: Travel and the Social Imagination in Imperial Japan | McDonald | Kate | | | | | | | | 2017 | University of California Press | EPUB, PDF, MOBI | 978-0-520-96723-6 | Japan --Colonies -- Description and travel | Tourism -- Political aspects -- Japan 20th century | | https://doi.org/10.1525/luminos.34 | Creative Commons Attribution-NonCommercial-NoDerivatives 4.0 Licence |
| Metroimperial Intimacies: Fantasy, Racial-Sexual Governance, and the Philippines in U.S. Imperialism, 1899-1913 | Mendoza | Victor Roman | | | | | | | | 2015 | Duke University Press | PDF | 9.78E+12 | Imperialism—Social aspects—Philippines—History—20th century | United States—Territories and possessions—History—20th century | Colonial administrators—Philippines—Attitudes—History—20th century | 10.1353/book.64129 | Creative Commons Attribution-NonCommercial-NoDerivatives 4.0 International Licence |
| Swift, the Book, and the Irish Financial Revolution: Satire and Sovereignty in Colonial Ireland | Moore | Sean D. | | | | | | | | 2010 | Johns Hopkins University Press | EPUB, PDF | 9.78E+12 | Ireland -- History -- Autonomy and independence movements | Ireland -- Economic conditions | Swift, Jonathan, 1667-1745 -- Criticism and interpretation | 10.1353/book.475 | Creative Commons Attribution-NonCommercial-NoDerivatives 4.0 International Licence |
| The Roman Empire: Roots of Imperialism | Morley | Neville | | | | | | | | 2010 | Pluto Press | PDF | 9.78E+12 | Rome (Empire) -- History | Rome -- Civilization | Imperialism -- History | http://library.oapen.org/handle/20.500.12657/30774 | Creative Commons Attribution-NonCommercial-NoDerivatives 4.0 International Licence |
| Cultural Worlds of the Jesuits in Colonial Latin America | Newsom | Linda | editor | | | | | | | 2020 | University of London Press | PDF | 978-1-908857-75-0 | Jesuits -- Latin America -- Influence | Latin American -- Colonial influence | Latin America -- Civilization | 10.14296/520.978190885775 | Creative Commons Attribution-NonCommercial-NoDerivatives 4.0 International Licence |
| The Form of Ideology and the Ideology of Form: Cold War, Decolonization and Third World Print Cultures | Orsini | Francesca | editor | Srivastava | Neelam | editor | Zecchini | Laetitia | editor | 2022 | Open Book Publishers | PDF, HTML | 978-1-80064-190-7 | Transmission of texts -- History -- 20th century | | | https://doi.org/10.11647/OBP.0254 | Creative Commons Attribution-NonCommercial-NoDerivatives 4.0 International Licence |
| Dangerous Gifts: Imperialism, Security, and Civil Wars in the Levant, 1798-1864 | Ozavci | Ozan | | | | | | | | 2021 | Oxford University Press | PDF | 9.78E+12 | Civil war -- Middle East -- History -- 19th century | Middle East -- Foreign relations | Imperialism | https://global.oup.com/academic/product/dangerous-gifts-9780198852964?cc=us&lang=en&# | Creative Commons Attribution-NonCommercial-NoDerivatives 4.0 Licence |
| Israel and Empire: A Postcolonial History of Israel and Early Judaism | Perdue | Leo G. | editor | Carter | Warren | Lindner | Baker | Coleman | editor | 2015 | Bloomsbury Academic | PDF | 978-0-5672-8051-0 | Bible -- History of Biblical events | Eretz Israel -- History -- To 70 A.D | Bible -- Old Testament -- Postcolonial criticism | 10.5040/9780567669797 | Creative Commons Attribution-NonCommercial-NoDerivatives 4.0 International Licence |
| Female Imperialism and National Identity: The Imperial Order Daughters of the Empire | Pickles | Katie | | | | | | | | 2018 | Manchester University Press | PDF | 9.78E+12 | Imperial Order Daughters of the Empire -- History | Women -- Canada -- History | | https://doi.org/10.7765/9781526137357 | Creative Commons Attribution-NonCommercial-NoDerivs 3.0 Unported |
| Inventing the Third World: In Search of Freedom for the Postwar Global South | Prakash | Gyan | editor | Adelman | Jeremy | editor | | | | 2022 | Bloomsbury Academic | PDF | 978-1-3502-6816-6 | Developing countries -- Foreign relations | | | 10.5040/9781350277380 | Creative Commons Attribution-NonCommercial-NoDerivatives Licence |
| The Audacious Raconteur: Sovereignty and Storytelling in Colonial India | Prasad | Leela | | | | | | | | 2021 | Cornell University Press | EPUB, PDF | 9.78E+12 | Politics and literature -- India -- History | Colonialism -- India | Storytelling -- Political aspects -- India | https://www.cornellpress.cornell.edu/book/9781501752292/the-audacious-raconteur/#bookTabs=4 | Creative Commons Attribution-NonCommercial-NoDerivatives 4.0 International Licence |
| An Historical Account of the Black Empire of Hayti | Rainsford | Marcus | | | | | | | | 2013 | Duke University Press | PDF | 9.78E+12 | Haiti—History -- To 1791 | Haiti—History—Revolution, 1791–1804 | Toussaint Louverture, François Dominique, 1743-1803 | http://library.oapen.org/handle/20.500.12657/30266 | Creative Commons Attribution -- 4.0 Licence |
| Imperial Muslims: Islam, Community and Authority in the Indian Ocean, 1839-1937 | Reese | Scott S. | | | | | | | | 2017 | Edinburgh University Press | EPUB, PDF | 9.78E+12 | Muslims -- Indian Ocean Region -- History -- 19th century | Great Britain -- Colonies | | https://edinburghuniversitypress.com/book-imperial-muslims.html | Creative Commons Attribution -- 4.0 International Licence |
| Colonial Powers and Ethiopian Frontiers 1880–1884 | Rubenson | Sven | ed | | | | | | | 2021 | Manchester University Press | PDF, HTML | 9.79E+12 | Ethiopia -- History | Imperialism -- History | | https://doi.org/10.7765/9789198469974 | |
| Imagined Homelands: British Poetry in the Colonies | Rudy | Jason R. | | | | | | | | 2017 | Johns Hopkins University Press | PDF | 9.78E+12 | Commonwealth poetry (English) -- History and criticism | Colonies in literature | Imperialism in literature | 10.1353/book.56466 | Creative Commons Attribution-NonCommercial-NoDerivatives 4.0 International Licence |
| Lithuania in Crisis: Nationalism to Communism, 1939-1940 | Sabliunas | Leonas | | | | | | | | 2021 | Indiana University Press | EPUB | 9.78E+12 | Nationalism -- Lithuania -- History -- 20th century | World War, 1939-1945 -- Lithuania | | https://doi.org/10.2979/LithuaniainCrisisNat | Creative Commons Attribution CC-BY-NC-ND |
| Disciplinary Conquest: U.S. Scholars in South America, 1900-1945 | Salvatore | Ricardo | | | | | | | | 2016 | Duke University Press | PDF | 9.78E+12 | Latin America -- Civilization -- Study and teaching (Higher) -- United States | Imperialism | | 10.1215/9780822374503 | Creative Commons Attribution-NonCommercial-NoDerivatives 4.0 International Licence |
| The Vanguard of the Atlantic World: Creating Modernity, Nation, and Democracy in Nineteenth-Century Latin America | Sanders | James | | | | | | | | 2014 | Duke University Press | PDF | 9.78E+12 | Latin America -- Politics and government -- 19th century | Democracy -- History -- 19th century | | https://library.oapen.org/handle/20.500.12657/53164 | Creative Commons Attribution-NonCommercial-NoDerivatives 4.0 International Licence |
| Ever Faithful: Race, Loyalty and the Ends of Empire in Spanish Cuba | Sartorious | David | | | | | | | | 2014 | Duke University Press | PDF | 9.78E+12 | Black people -- Race identity -- Cuba -- History -- 19th century | Spain -- Colonies -- America -- Administration -- History -- 19th century | Cuba -- Race relations -- History -- 19th century | 10.26530/OAPEN_469253 | Creative Commons Attribution-NonCommercial-NoDerivatives 4.0 International Licence |
| BRICS and the New American Imperialism: Global Rivalry and Resistance | Satgar | Vishwas | editor | | | | | | | 2020 | Wits University Press | PDF | 978-1-77614-576-8 | BRIC countries -- Foreign economic relations | Imperialism -- Economic aspects | United States -- Foreign relations | 10.18772/22020035287 | Creative Commons Attribution-NonCommercial-NoDerivatives 4.0 International Licence |
| Affective Disorders: Emotion in Colonial and Postcolonial Literature | Scott | Bede | | | | | | | | 2019 | Liverpool University Press | PDF | 9.78E+12 | Imperialism in literature | Postcolonialism in literature | Emotions in literature | 10.2307/j.ctvt6rj7f | Creative Commons Attribution-NonCommercial-NoDerivatives 4.0 International Licence |
| Uneven Encounters: Making Race and Nation in Brazil and the United States | Seigel | Micol | | | | | | | | 2009 | Duke University Press | PDF | 9.78E+12 | Brazil -- Race relations -- History -- 20th century | Nationalism—Brazil—History—20th century | Racism—Brazil—History—20th century | https://doi.org/10.1215/9780822392170 | Creative Commons Attribution-NonCommercial-NoDerivatives 4.0 International Licence |
| Empire's Garden: Assam and the Making of India | Sharma | Jayeeta | | | | | | | | 2011 | Duke University Press | PDF | 9.78E+12 | Tea trade -- India -- Assam -- History | India -- History -- British occupation, 1765-1947 | Indentured servants | 10.1215/9780822394396 | Creative Commons Attribution -- 4.0 Licence |
| The Black Pacific: Anti-Colonial Struggles and Oceanic Connections | Shilliam | Robbie | | | | | | | | 2015 | Bloomsbury Academic | PDF | 978-1-4725-1925-2 | Pacific Area -- Politics and government | Black Power | Postcolonialism | 10.5040/9781474218788 | |
| Race in Translation: Culture Wars around the Postcolonial Atlantic | Shohat | Ella | | Stam | Robert | | | | | 2012 | NYU Press | EPUB | 9.78E+12 | Multiculturalism -- Atlantic Ocean Region | Race | Postcolonialism | 10.18574/nyu/9780814798379.001.0001 | Creative Commons Attribution-NonCommercial-ShareAlike 4.0 International License |
| Anti-Empire: Decolonial Interventions in Lusophone Literature | Silva | Daniel F. | | | | | | | | 2018 | Liverpool University Press | PDF | 9.78E+12 | Colonies in literature | Imperialism in literature | Portuguese literature -- History and criticism | 10.2307/j.ctv69tgxz | Creative Commons Attribution-NonCommercial-NoDerivatives 4.0 International Licence |
| Unthinking Mastery: Dehumanism and Decolonial Entanglements | Singh | Juliette | | | | | | | | 2017 | Duke University Press | PDF | 9.78E+12 | Postcolonialism in literature | Power (Social sciences) in literature | | http://library.oapen.org/handle/20.500.12657/30252 | Creative Commons Attribution-NonCommercial-NoDerivatives 4.0 International Licence |
| Britain, France and the Decolonization of Africa: Future Imperfect? | Smith | Andrew W. | editor | Jeppesen | Chris | editor | | | | 2017 | UCL Press | PDF | 9.78E+12 | Decolonization -- Africa | Africa -- Politics and government | | https://www.uclpress.co.uk/collections/open-access/products/86196 | |
| Colonial Objects in Early Modern Sweden and Beyond: From the Kunstkammer to the Current Museum Crisis | Snickare | Marten | | | | | | | | 2022 | Amsterdam University Press | PDF | 9.79E+12 | Archaeological museums and collections -- Sweden -- History | Sweden -- Territories and possessions -- History | | https://library.oapen.org/handle/20.500.12657/54251 | Creative Commons Attribution-NonCommercial-NoDerivatives 4.0 International Licence |
| The Victorian Soldier in Africa | Spiers | Edward M. | | | | | | | | 2018 | Manchester University Press | PDF, HTML | 9.78E+12 | Africa -- History, Military -- 19th century | Great Britain. -- Army -- History -- 19th century | | https://doi.org/10.7765/9781526137913 | |
| Decolonising the Human: Reflections from Africa on Difference and Oppression | Steyn | Melissa | editor | Mpofu | William | editor | | | | 2021 | Wits University Press | PDF | 978-1-77614-678-9 | Decolonization -- Africa, Sub-Saharan -- History | Race | | 10.18772/22021036512 | Creative Commons Attribution-NonCommercial-NoDerivatives 4.0 International Licence |
| Universities in Imperial Austria, 1848–1918: A Social History of a Multilingual Space | Surman | Jan | | | | | | | | 2019 | Purdue University Press | PDF | 9.78E+12 | Austria -- Politics and government -- 1848-1918 | Higher education and state -- Austria -- History | Habsburg Empire | https://docs.lib.purdue.edu/purduepress_ebooks/45/ | Creative Commons Attribution CC-BY-NC |
| New Countries: Capitalism, Revolutions, and Nations in the Americas, 1750-1870 | Tutino | John | editor | | | | | | | 2009 | Duke University Press | PDF | 9.78E+12 | Industrialization -- History -- 19th century | Latin America -- History -- Autonomy and independence movements | | 10.1215/9780822374305 | Creative Commons Attribution-NonCommercial-NoDerivatives 4.0 International Licence |
| Inconvenient Heritage: Colonial Collections and Restitution in the Netherlands and Belgium | van Beurden | Josh | | | | | | | | 2022 | Amsterdam University Press | PDF | 9.79E+12 | Cultural property -- Developing countries | Museums -- Collection management -- Belgium | Museums -- Collection management -- Netherlands | https://library.oapen.org/handle/20.500.12657/57086 | Creative Commons Attribution-NonCommercial-NoDerivatives 4.0 International Licence |
| Performing Power: Cultural Hegemony, Identity, and Resistance in Colonial Indonesia | Van der Meer | Arnout | | | | | | | | 2021 | Cornell University Press | EPUB, PDF | 9.78E+12 | Politics and culture -- Indonesia -- Java -- History | Colonialism -- Indonesia | | https://www.cornellpress.cornell.edu/book/9781501758607/performing-power/#bookTabs=4 | Creative Commons Attribution-NonCommercial-NoDerivatives 4.0 International Licence |
| In/visible Sight: The Mixed-Descent Families of Southern New Zealand | Wanhalla | Angela | | | | | | | | 2010 | Athabasca University Press | PDF | 9.78E+12 | Kāi Tahu (New Zealand people) -- New Zealand -- South Island -- Relations with Europeans | Interracial marriage -- New Zealand -- South Island | | https://www.aupress.ca/books/120170-in-visible-sight/ | Creative Commons Attribution-NonCommercial-NoDerivs 2.5 Canada |
| Empire's Violent End: Comparing Dutch, British, and French Wars of Decolonization, 1945–1962 | Zaalberg | Thijs Brocades | editor | Luttikhuis | Bart | | | | | 2022 | Cornell University Press | EPUB, PDF | 9.78E+12 | Anti-imperialist movements -- Africa -- History -- 20th century | Anti-imperialist movements -- Southeast Asia -- History -- 20th century | Decolonization | https://www.cornellpress.cornell.edu/book/9781501764165/empires-violent-end/#bookTabs=4 | Creative Commons Attribution-NonCommercial-NoDerivatives 4.0 International Licence |
| Colonial Debts: The Case of Puerto Rico | Zambrana | Rocio | | | | | | | | 2021 | Duke University Press | PDF | 9.78E+12 | Postcolonialism -- Economic aspects -- Puerto Rico | United States Economic policy | | 10.1215/9781478013198 | Creative Commons Attribution-NonCommercial-NoDerivatives 4.0 International Licence |