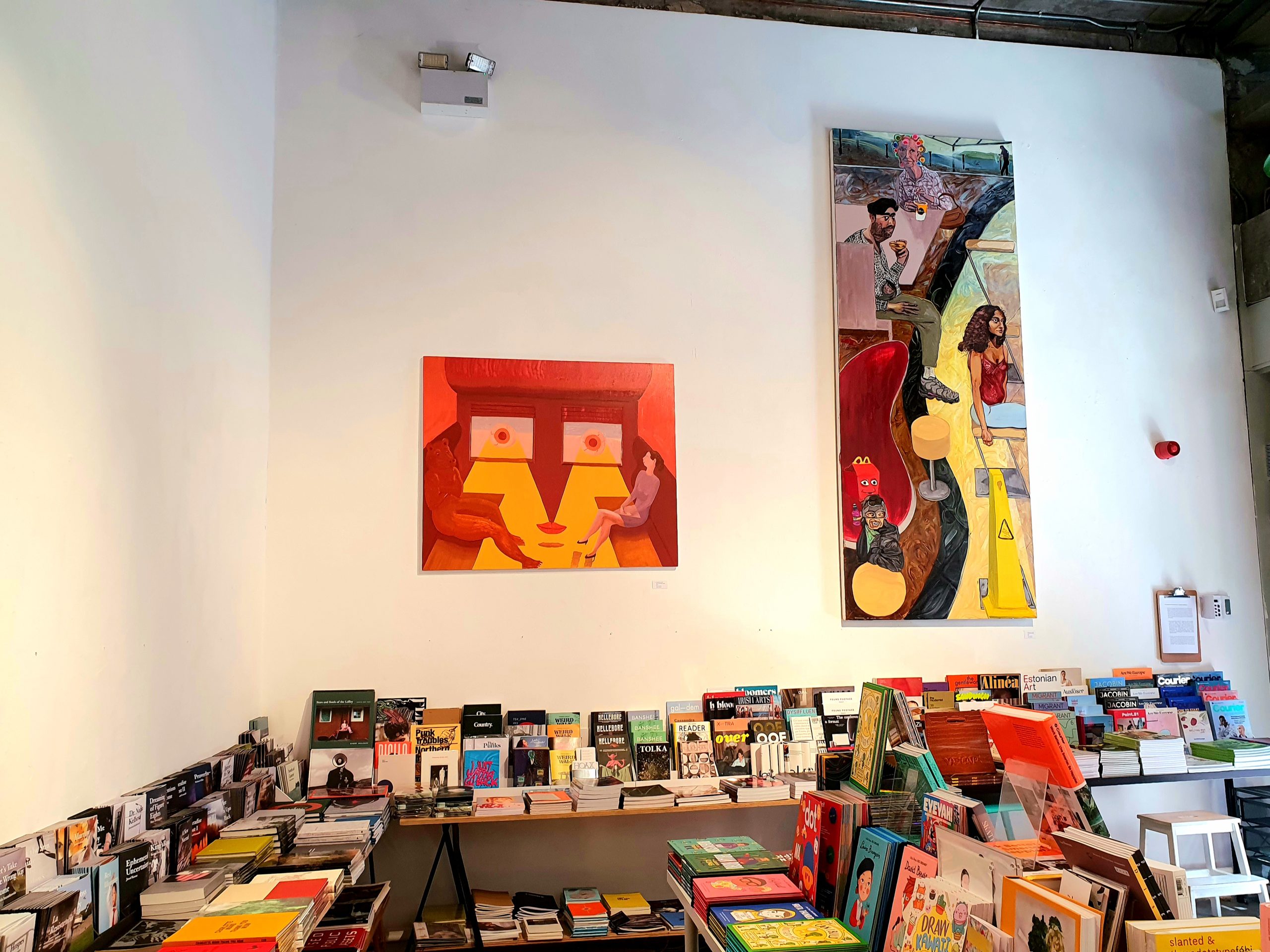 Introduction
by Clare Doyle
In June 2021, The Library Project and Basic Space Dublin presented On Belonging, a collaborative group exhibition guest-curated by Diana Bamimeke. The artists featured were Bassam Al-Sabah, Maïa Nunes, Moran Been-noon, Osaro, Oscar Fouz Lopez, and Salvatore of Lucan. The artists were invited to respond "not only to the state of belonging – how it is conceived and made physical – but conversely, to not-belonging, and the outcomes of both in the modern world."
As the show, originally scheduled for May 2020, kept being postponed, events of the intervening year – global pandemic, Black Lives Matter protests and the climate emergency – shaped and changed the artists' responses to the theme of belonging. And curator Diana Bamimeke wrote an essay about the exhibition:
Four Negotiations
In response to On Belonging, for Basic Space Dublin:
Part 1
This house was an elegy. It was a monument to grief in the most pervasive way. There is the old belief that animals and children can sense evil, cleaved to by generations of the faithful. And yet, in the vicinity of this house, this ability was numbed. There was no perception of good or evil. There was only a vacuum where perception ought to be. This house sat unoccupied for years at the terminal of a cul-de-sac. It was neighbourhood superstition that by this point the knotted mass of weeds in the lawn had gained new sentience and snaked their way indoors. That errant plant life now ruled the house's interiors. A myth was built around this house and the myth did not let up. In fact, it swelled like a fatal surge, a heedless story that circumnavigated the world, finding translations in every language.
Part 2
SECULARCONFESSION-ADMITTWO-ONEFORYOU,ONEFORYOURPAIN – STEP INSIDE – LISTEN CLOSELY – SUBMIT THE HURT TO ELEMENTS OUTSIDE YOUR CONTROL – WHEN IT FEELS RIGHT, BEGIN TO TALK – SLOUGH IT ALL OFF – YES, ALL OF IT – EVEN THAT – REST NOW -PLUCKIT OFF YOUR PERSON – PILE HIGH THE GRIEF – SEE IT ACCUMULATE IN THE CORNER LIKE SO MUCH DEBRIS – THE JUNK OF ALL THE LIFE LIVED SO FAR – DID YOU THINK IT WOULD AMOUNT TO SO MUCH? – DO YOU EVEN RECOGNISE ALL OF IT? – KEEP TALKING – GO ON SO – THE CURTAIN IS DRAWN BEHIND YOU – NO ONE CAN HEAR – IT WILL COME OUT IN INNUMERABLE FORMS – LIKE MIST – LIKE RUBBLE – LIKE ACID – THIS BODY IS A FACTORY – ITS WASTE PRODUCTS NUMBER MANY – CORRECT DISPOSAL IS YOUR RESPONSIBILITY – THIS PLACE IS THE ONLY ETHICAL DUMPING GROUND
Part 3
The way I dug up the garden could be called a sort of crude botanical scrying. By strategically carving up the earth I could get at the truth that had eluded me for so many years. I started in the furthest left hand corner of the space and worked my way across diagonally. Up came budding tomato stalks, stubborn carrots and rainbow flower beds. Dashed aside they formed accidental horns of plenty, their masses leaving loamy stains against the wooden fence. Hours in, the soil around me was pockmarked with holes. The sky reddened, as if embarrassed to see its friend suffer such indignity. I tilted my head up, cupped my mouth. "I have my reasons!" I shouted. Like in a film the only response I got was frightened flocks of birds tearing away from their branches. But I continued to dig. Abandoning my trowel in desperation I thrust my hands into the dirt looking for the answers, asking them to surface for me. Only worms and grey insects revealed themselves. More hours passed. A pit formed, a pit that ate the other little holes, and sure enough it took me. I tumbled in, falling so hard that I bloodied my knees against blunt rocks. But I continued to dig. Even when my sister and my niece found the cavernous mouth that had nearly consumed their entire back garden; even when they called my name and begged me to grab onto the firefighter's rope; even when years slipped by and the hole had long been refilled and my obituary had been published despite my very much being alive, I continued to dig and dig and dig, compelled by pernicious instinct. I stopped only when my head broke ground, and I found myself crowned with weeds.
Part 4
After hours of waiting in the hard wooden seats, you decide to pee and stretch your legs. You pass the several numbered booths, a few of which have a bored employee stationed behind the protective glass. For every bored employee there is an exasperated customer brandishing a passport or a wretched looking student type on the brink of tears. You swing open the door of the women's bathrooms and the radioactive blue light drenches you. You haven't been the same ever since you read that the light is used to reveal drug residue in the stalls and nab users. It might not even be true, but it influences your decision regardless, and you settle on the most innocuous looking toilet. While you sit you thumb through your phone. Absentmindedly, you open your banking app. €300.00. It is still there. In less than an hour, this sum will have disappeared. At times it doesn't seem worth it, and it feels foolish, to make the sorry pilgrimage to the GNIB yearly and come out poorer than you came in. You tap your foot to the sound of a leaky tap but the percussion is muffled by the trousers round your ankles. In your head you try to calculate how many hours of your life are about to pay for you not to be deported from your home. But you've never excelled at mental maths, so your phone does the calculating for you. 29.7029703, the screen responds dutifully.
The stool in booth number seven equals the rows of seats in hardness, if not outstrips them entirely. You wonder if this is a plot by the Department of Justice to make their facilities as inhospitable as possible to deter people from renewing their residence permits. The thought is short-lived because it is interrupted by the attendant who has finished examining your passport. Po-faced, she slides it back to you through the metal opening and motions towards the card reader.
You know the drill. The reader beeps for a successful transaction and without looking away from her computer monitor the attendant says, "Card'll be posted out to you." You hazard a goodbye, but there is no response.
About the Author
Diana Bamimeke is a writer and early-career independent curator from Dublin, Ireland. An alumnus of the Irish Museum of Modern Art (IMMA) After initiative, their writing credits include the VAI News Sheet, the IMMA Magazine and joint publications by the Royal Hibernian Academy and Temple Bar Gallery + Studios.